The Top 20 Commercial Real Estate Blogs
Commercial Real Estate in Washington State
Off-market opportunities
Access our selection of off-market property deals, and a personal consultant to guide you through your options.
In order to succeed in commercial real estate, you need to be knowledgeable and have up to date information. Luckily, the internet is filled with plenty of excellent free resources for those looking to educate themselves.
If you're not interested in searching the web for the best websites don't worry, we've already done that for you.
Here's our list of the top 20 commercial real estate blogs that will provide loads of value for any broker or investor.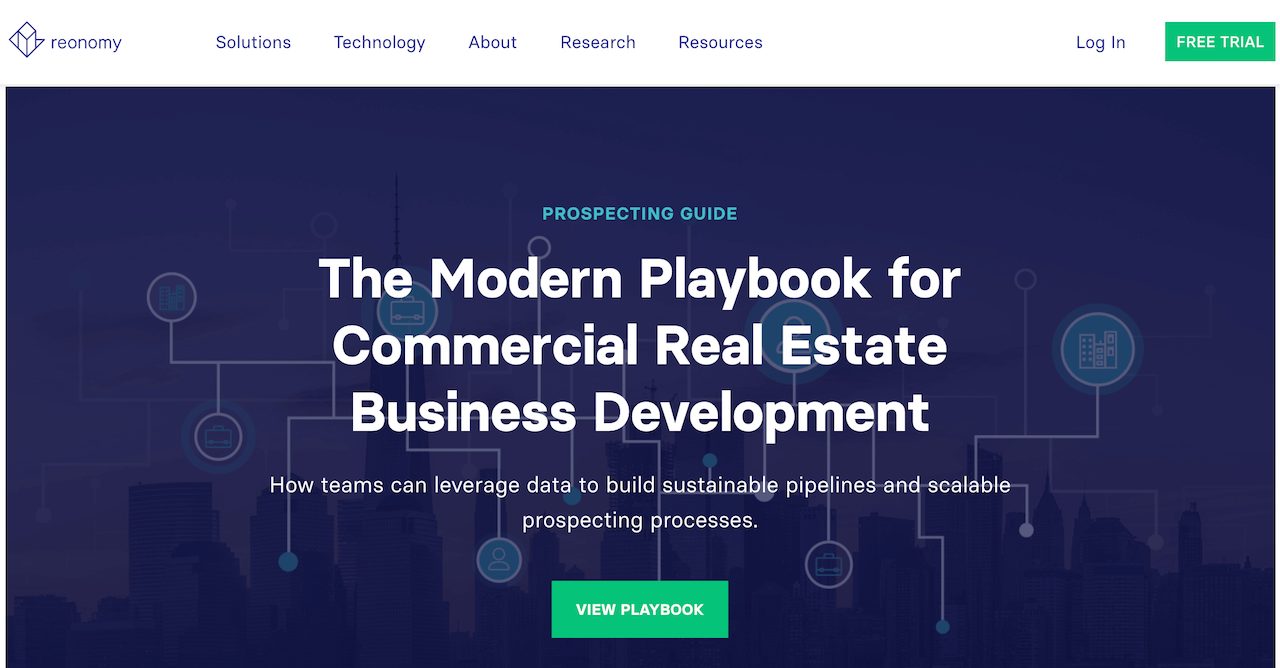 Reonomy is a technology platform that gives brokers, investors, and lenders easy access to commercial real estate information and listings. It allows you to find properties, perform research, and connect with sellers to make it easier for you to close deals.
In addition to their sophisticated platform, they also publish an insightful blog on commercial real estate. Here you'll find up-to-date articles on real estate news, technology, trends, strategies, and more.
Whether you're searching for the best CRE research tools, or simply looking for the latest industry updates, Reonomy is definitely worth checking out.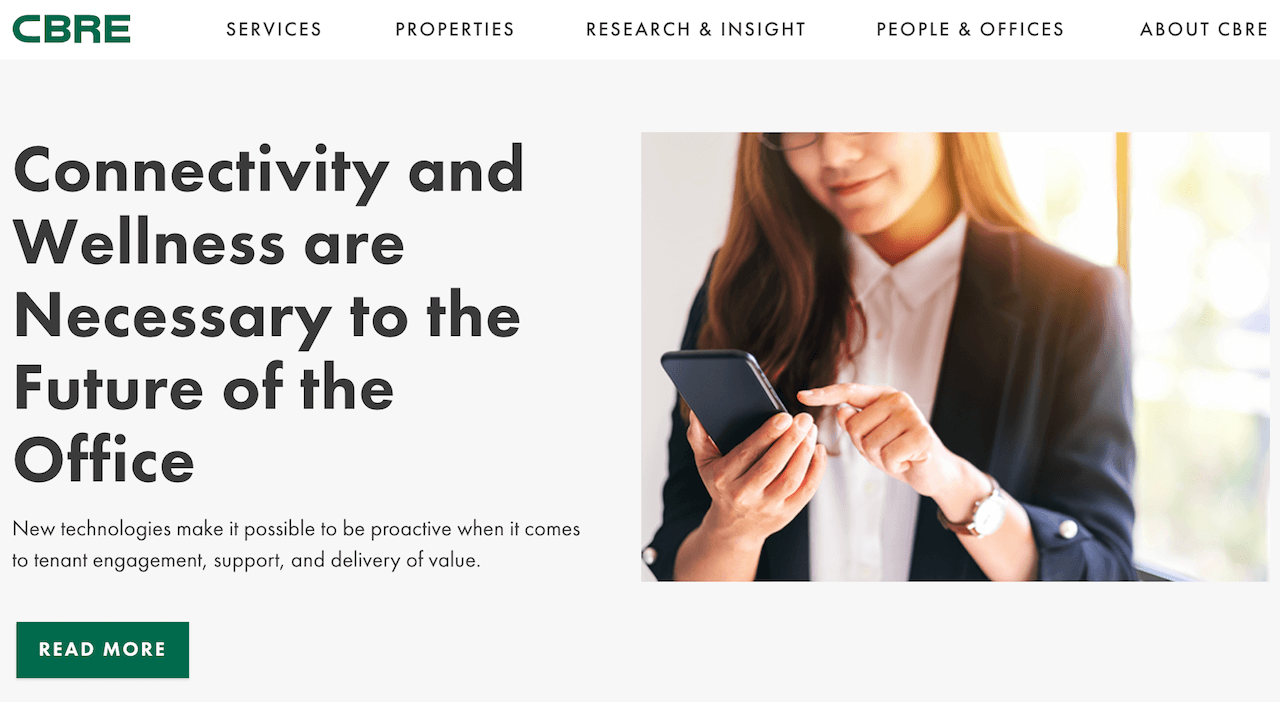 When it comes to commercial real estate it doesn't get much bigger than CBRE. As the world's largest commercial real estate and investment firm they're industry leaders and are trusted by millions of people around the world.
CBRE's website includes posts on multiple types of commercial real estate, such as office space, retail, and hotels. They also publish regular articles on global trends to help you plan for the future.
If you prefer to listen rather than read be sure to check out their podcast where they provide weekly updates on the latest CRE news.

The NAIOP was founded all the way back in 1967 and has grown into one of the largest commercial real estate organizations in North America. Today they focus on education and connecting their members to provide a wide range of business opportunities.
Their blog, Market Share, is one of the best CRE resources currently available. With multiple articles published every week, they offer information, commentary, editorials, and analysis on a wide range of real estate issues.
One of the best things about Market Share is its wide range of contributors. You'll find posts from many different experts and commentators, giving you access to insights from all across the industry.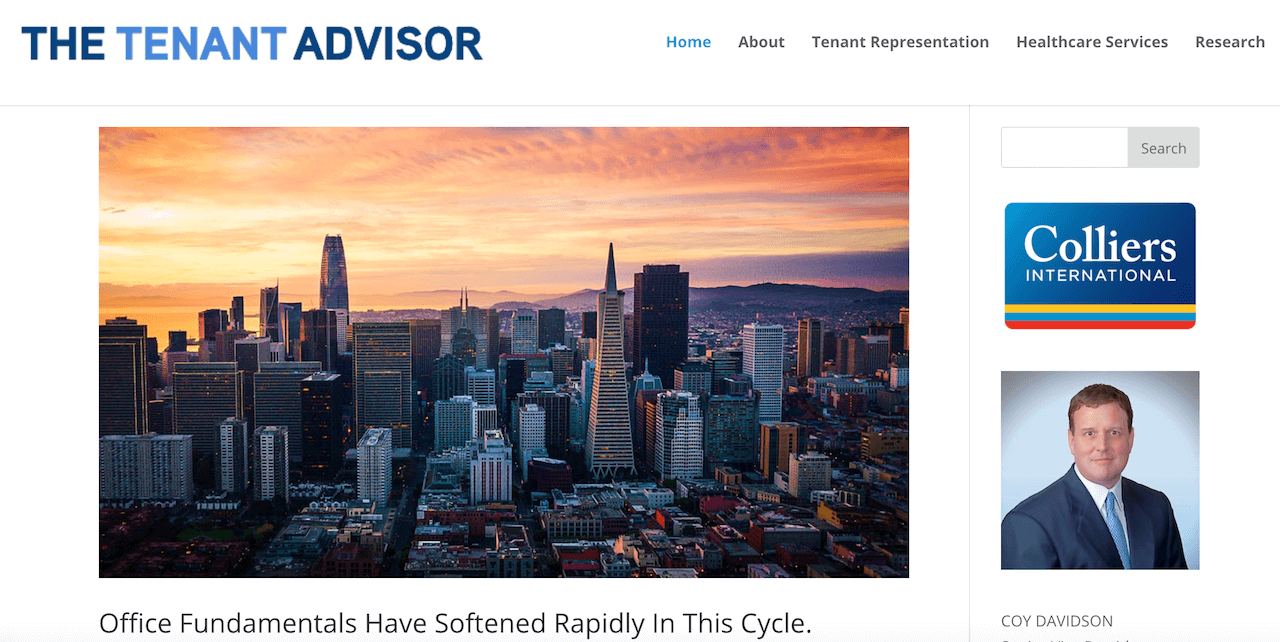 The Tenant Advisor is published by Coy Davidson, a Senior Vice President at Colliers International. With over 30 years in commercial real estate, it's hard to match the knowledge and experience Coy has acquired over his career.
His blog contains local real estate news on the Houston area. However, he also publishes a number of educational posts that would be useful for any broker or investor. You'll find information on negotiations, property valuation, leases, and much more.
If you're looking to learn from one of the industry's leading professional's then this blog is definitely for you.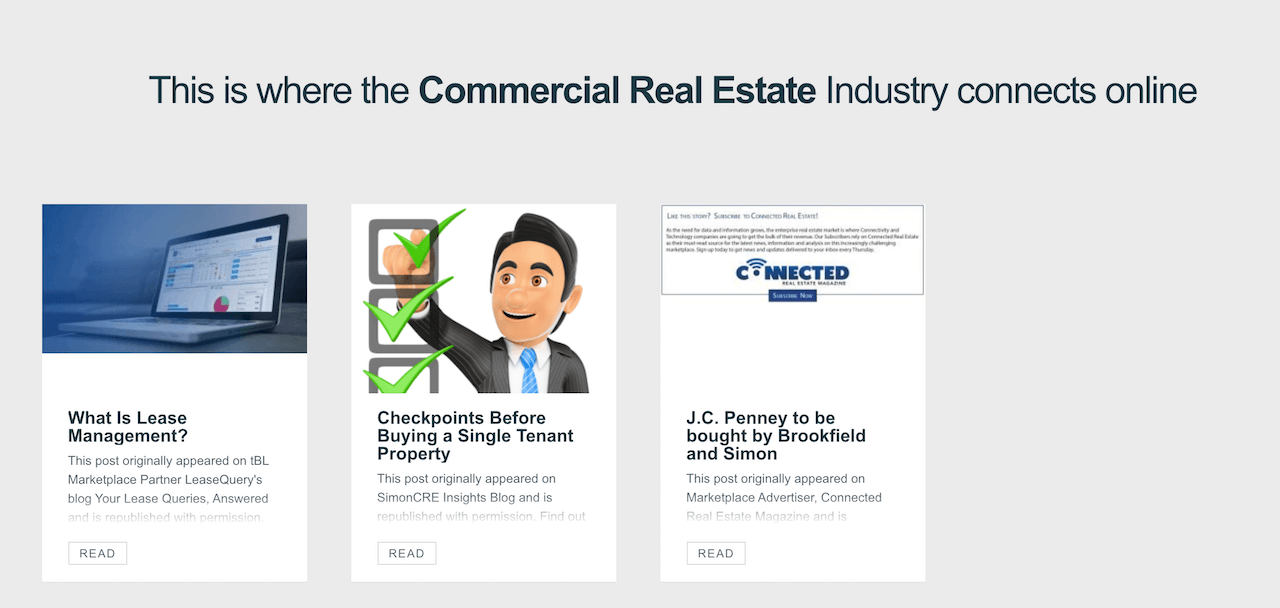 For those looking for a great free resource, it's hard to beat the Broker List. They offer a free online platform for finding brokers, deals, services, and vendors, making it an excellent site for anyone in the commercial real estate industry.
If that's not enough, they also post regular blogs on a number of different topics. Learn valuable industry tips, get advice from industry experts, and receive updates on all the latest CRE news.
Real estate can be a complicated subject, so it's always nice to find websites like this that are so passionate about providing excellent tools and sharing their knowledge.
This is the most widely used approach and involves placing a value on the property based on the potential income you can expect to generate from it.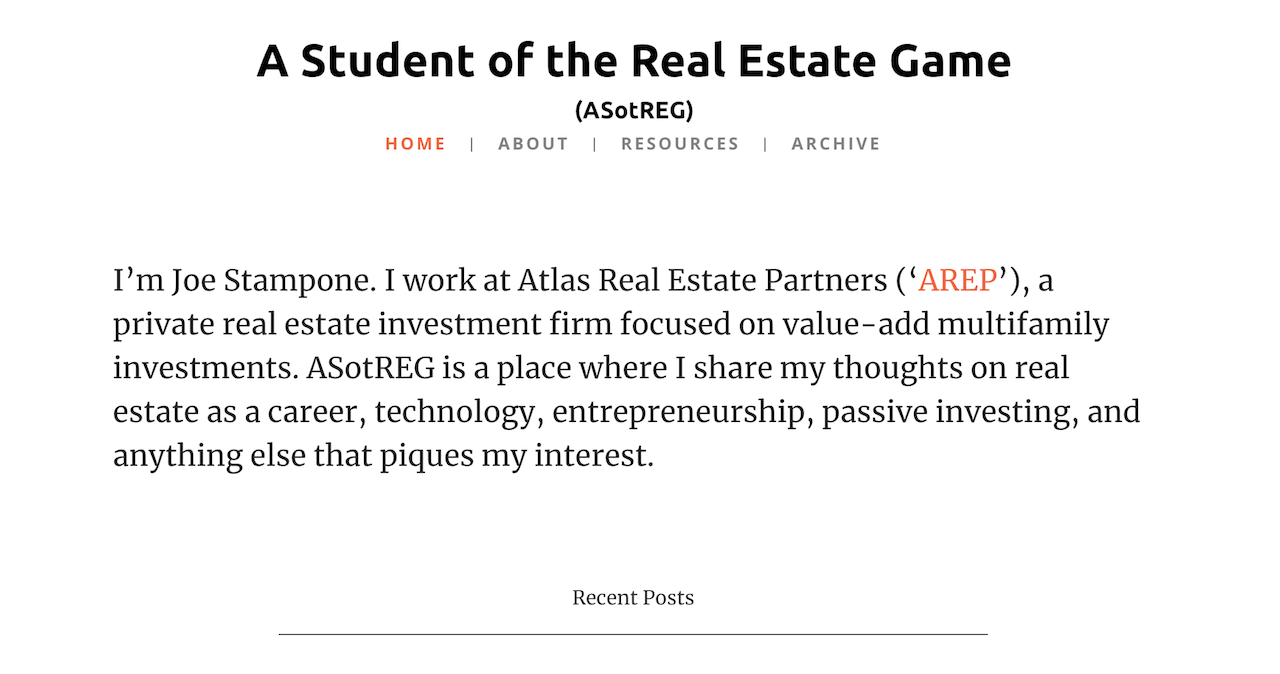 Written by Joe Stampone, Vice President of Investments at Atlas Real Estate Partners, this blog is an excellent source of commercial real estate news and information.
Dating all the way back to 2009, it focuses primarily on real estate entrepreneurship, the housing market, technology, innovation, and passive investing.
While the site isn't as flashy as some of the other entries on this list, the knowledge found here is some of the best around. Joe loves his work, and his passion for real estate is clear in his writing.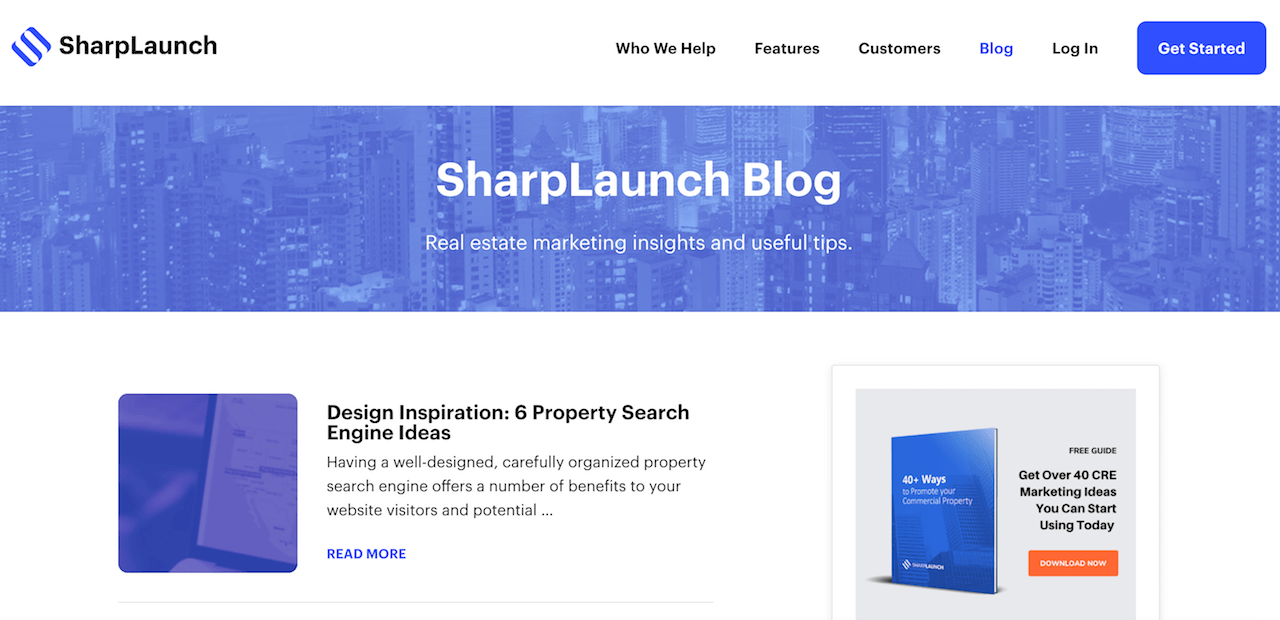 SharpLaunch provides a wide range of marketing tools and technology for real estate brokers. Their offerings include property websites, search engines, interactive maps, lead management, email marketing, and more.
As an industry leader in CRE marketing, they also publish regular blog posts on technology, strategies, and useful resources.
If you're looking for better marketing solutions, or just want to learn more about real estate, you're sure to find an abundance of useful information here.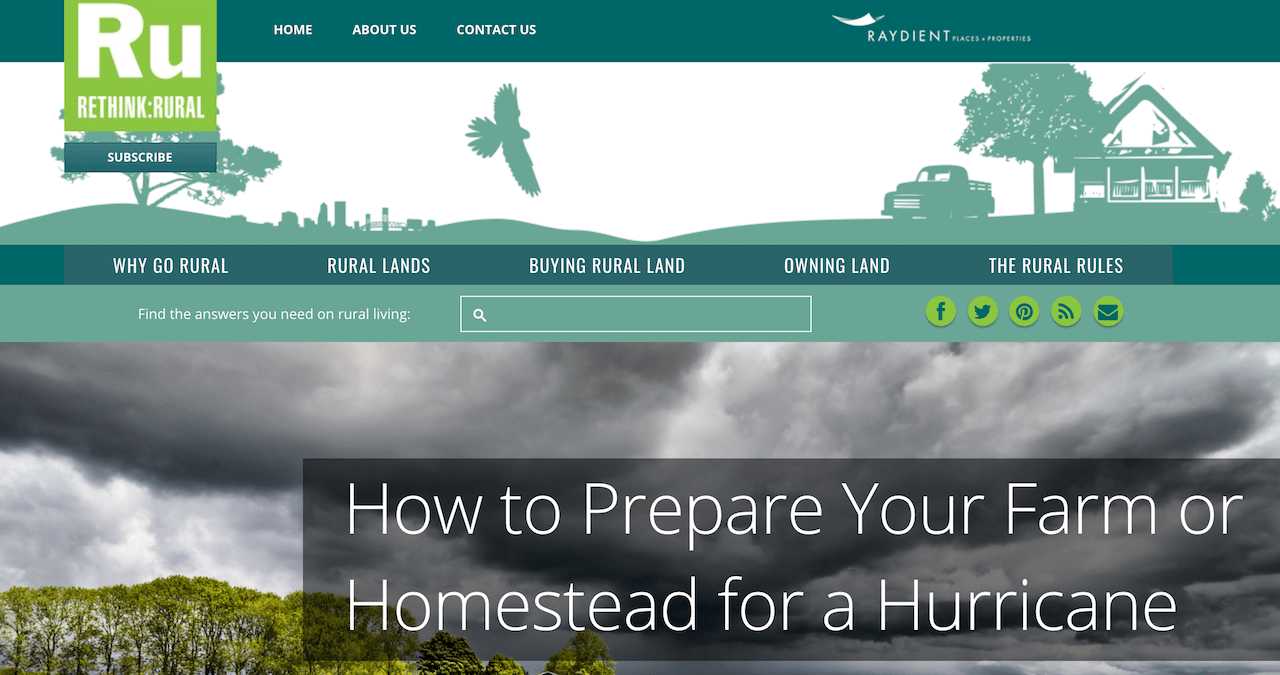 Not everyone is looking to buy in the city. For many people, their dream property is in the country. If this describes you then you'll love Rethink:Rural.
This blog posts regular content on buying remote land and living a rural lifestyle. There are plenty of tips to help new buyers find and value this type of land. They also provide information on the benefits of rural living and information to help you manage your property once you purchase it.
This is definitely more of a niche blog, but if you're considering purchasing property outside of the city this will be an invaluable resource for you.
CommercialCafe caters to both CRE professionals and business owners, covering a wide range of topics and posting real estate news from across the country.
This a great place to go to find industry reports, as well as information on real estate development, upcoming construction completions, the U.S. job market, architecture, urbanism, and more.
But don't just take our word for it that this is a quality publication. Their work has been featured by the New York Times, GlobeSt., Forbes, Inc, Patch, BusinessInsider, Curbed, AmericanInno, and Fast Company.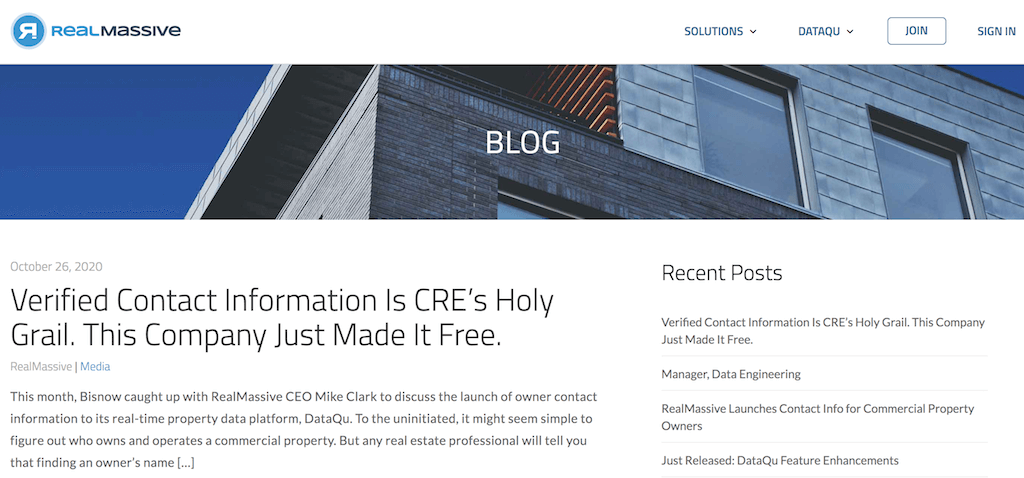 Getting access to the right data is critical for any real estate broker and that's exactly what RealMassive provides. Through their platform, their goal is to offer comprehensive and up-to-date technology solutions that inform the entire industry.
One way they do this is by publishing regular and informative blog posts. Here you'll find information on finding and collecting real estate data, as well as industry news and trends.
If you're interested in learning how you can grow your business through accurate data this blog is definitely worth a read.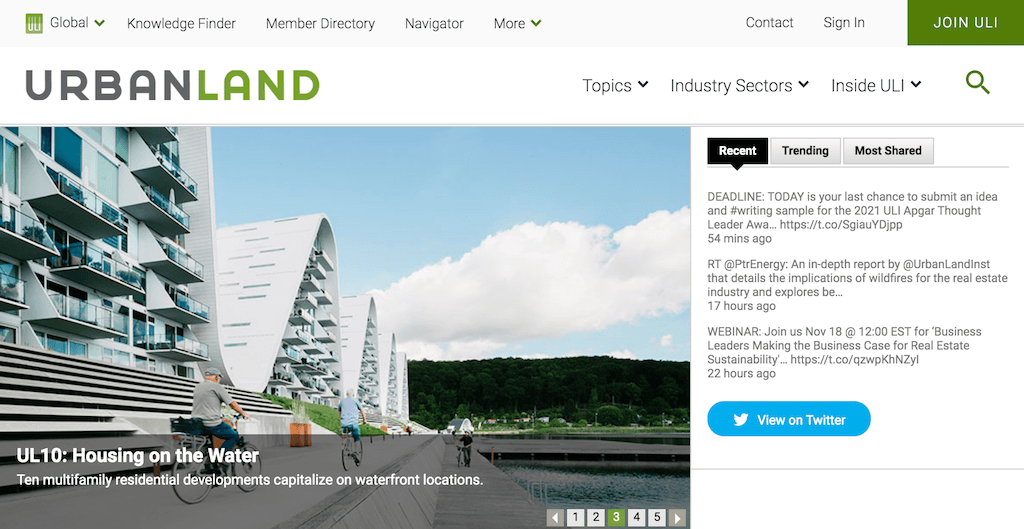 Urban Land is a magazine written by the Urban Land Institute. In addition to publishing four print editions per year, they also post regular online articles on the commercial real estate industry.
Their site is a great source for a wide array of real estate news, stories, and information from industry leaders and experts. Plus, they also release their printed articles online after subscribers receive their copies.
Whether you're interested in CRE updates, or want to read editorials from those in the know, you'll find what you're looking for at Urban Land.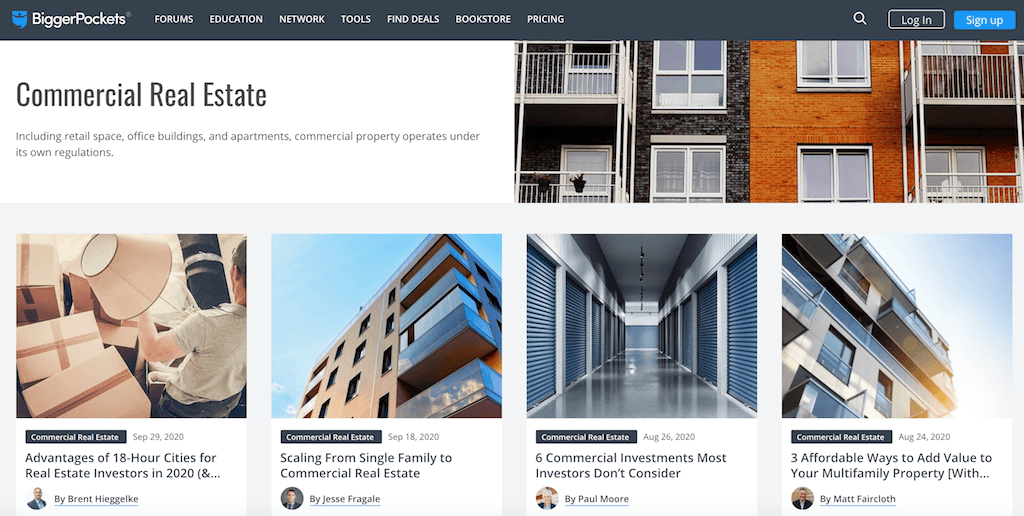 BiggerPockets is a site dedicated to helping people achieve financial freedom through real estate. It's an excellent resource for both new and experienced investors who want to expand their knowledge and get up-to-date information on the industry.
Their blog focuses on real estate investing and personal finance. You'll learn how to find profitable properties, manage your investments, and use advanced strategies to grow your portfolio.
If you're just beginning your investing journey this is one of the best places to go to get started and receive some free education.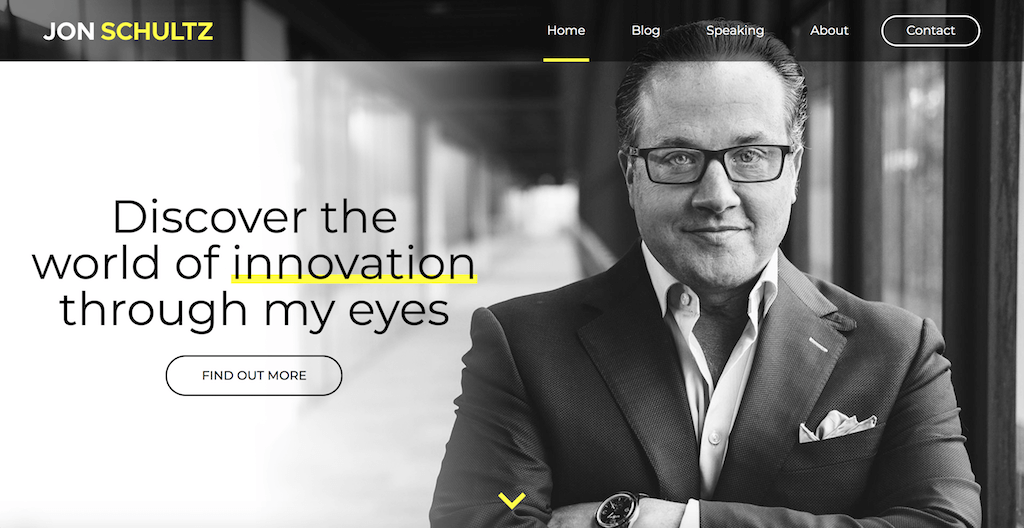 There are few people in the real estate industry who are bigger than Jon Schultz. As the Co-Founder and Managing Principal of Onyx Equities, he's become an authority on commercial real estate investment, management, development, and property service.
His blog isn't just limited to real estate. He also covers a wide range of topics including the job market, technology, and personal development to help you succeed in both business and life.
While not always directly related to the real estate industry, this blog is a treasure trove of valuable information from one of the world's leading investors.

PropertyMetrics is a provider of web-based real estate analysis software. They offer software solutions that help you build and share CRE proformas, as well as create a wide range of real estate documents.
Their commitment to helping both brokers and investors is evident in their blog, where you'll find regular posts on everything from leases and financing to the latest industry news.
Through both their software and their blog, Property Metrics continues to add value to the industry in a number of different ways.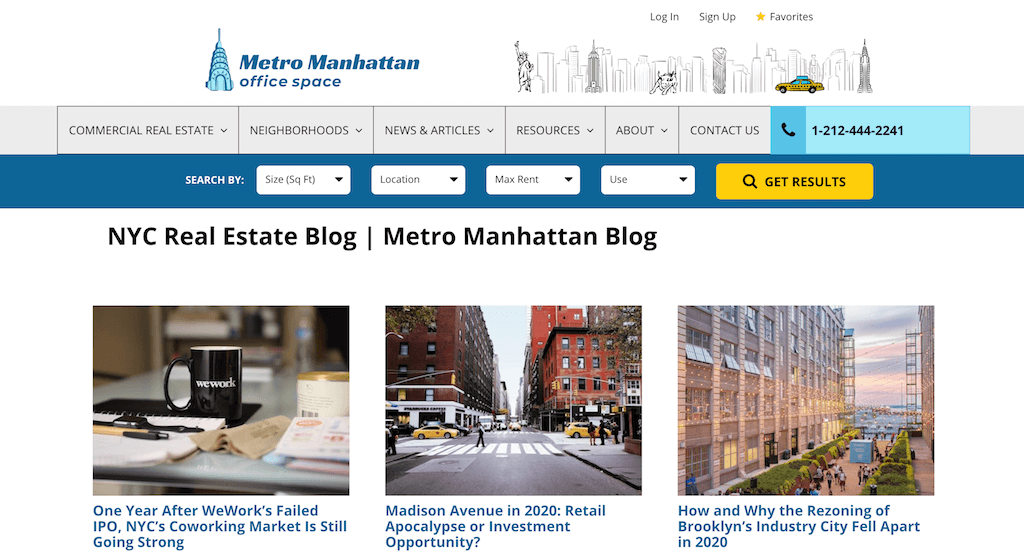 New York in one of the biggest real estate markets in the world, and if you want to stay up to date with what's happening there Metro Manhattan has you covered.
This New York City commercial real estate blog posts regularly about local news, market updates, and upcoming development projects. They also share valuable advice from some of the most knowledgeable experts in the area.
For anyone thinking of investing in New York real estate, Metro Manhattan is a must-read blog.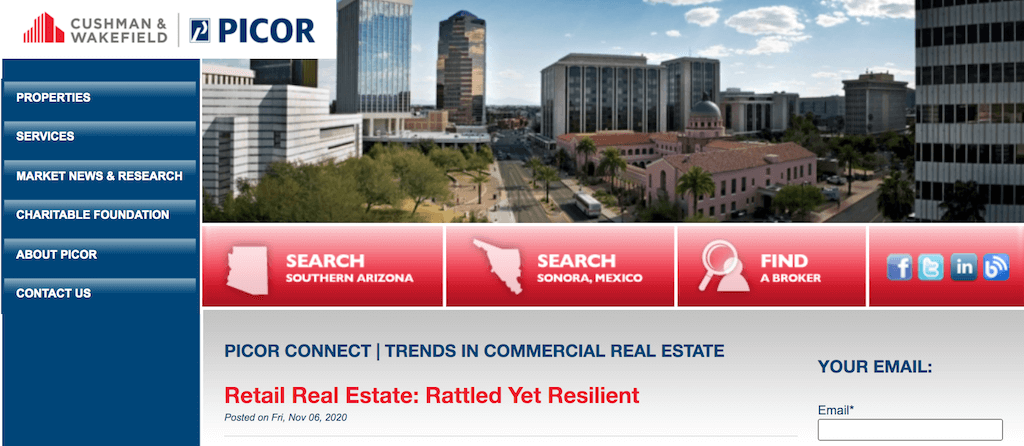 PICOR offers commercial real estate sales, leasing, and property management in Tuscon and the surrounding area. They deal with all types of properties, including retail, industrial, office, medical, and vacant land.
Naturally, their blog deals largely with the Tuscon area. So, for those wanting more information on this market this is the place to go. But they also offer a wide range of tips and advice that are relevant for any investor or broker.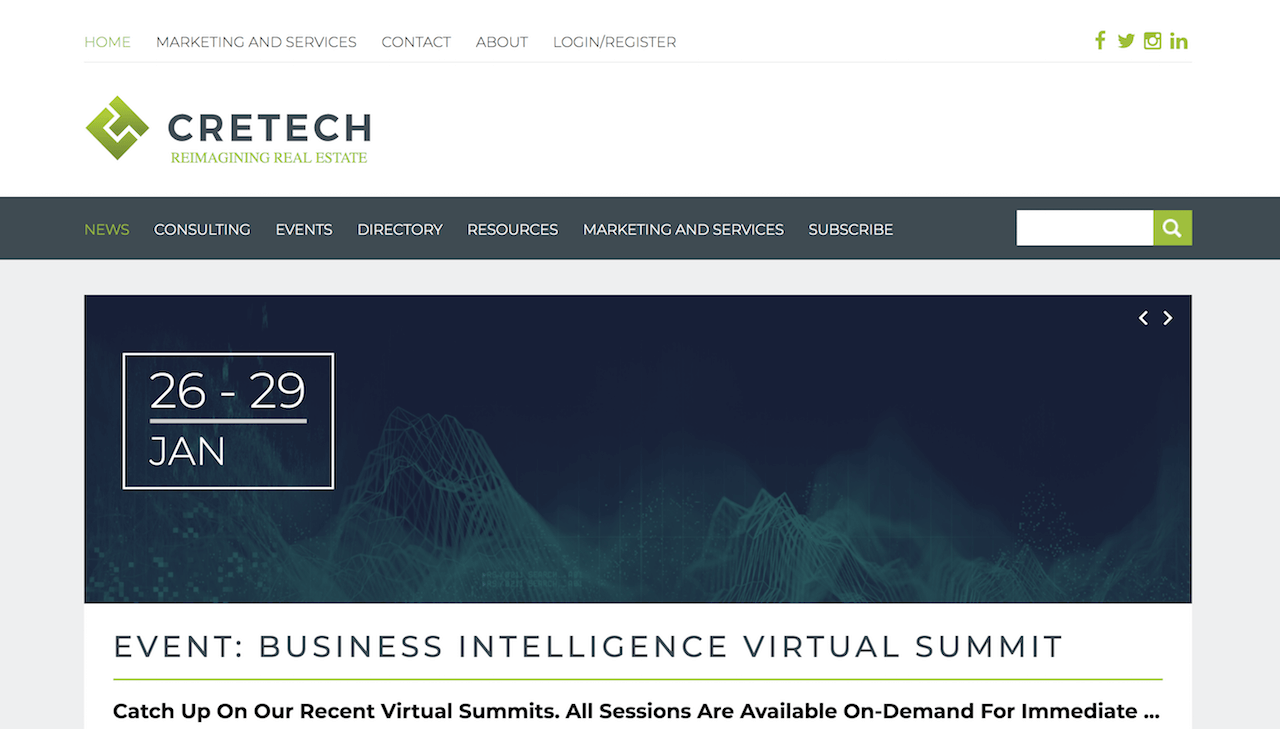 Technology is taking over every industry, and commercial real estate is no exception. CREtech is an international community of professionals devoted to helping the real estate industry embrace and adopt new advances in tech.
They use their blog to post regular updates on technology-related news, as well as information pieces that allow you to plan ahead and future-proof your business.
In order to succeed you need to be able to adapt, which is why anyone working in the real estate industry should definitely add this blog to their reading list.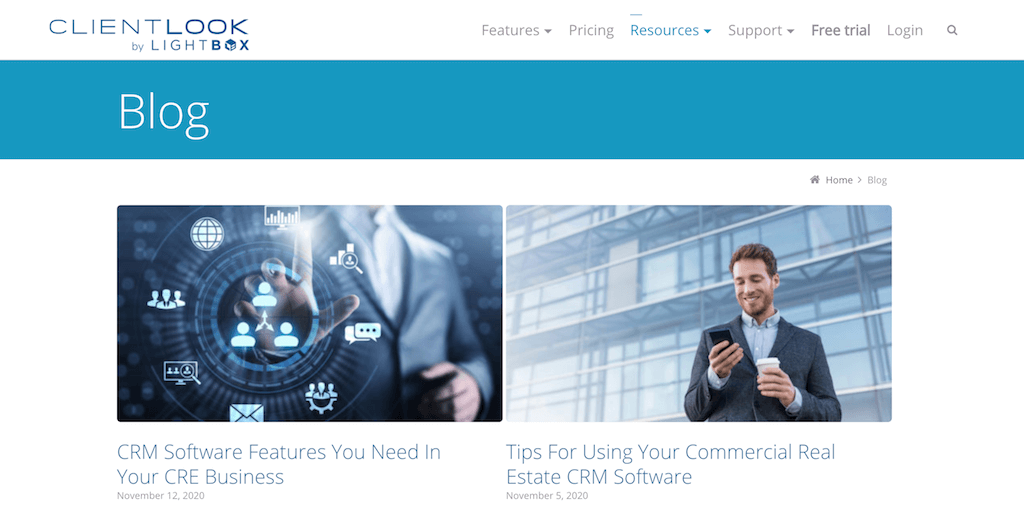 ClientLook provides an all-in-one commercial real estate CRM for data entry, task scheduling, client updates, and more. Unlike other CRM offerings, their's was built specifically for the CRE industry, making it the perfect tool for any broker.
They also publish regular blog articles on real estate marketing, lead generation, and technology.
If you'd like to learn more about CRMs, self-promotion, or just real estate in general this is an excellent place to look.
The Massimo Group is a commercial real estate consulting and coaching business, founded by long-time industry expert Rod Santomassimo. After working with over 2700 brokers and property owners it's safe to say Rod knows a thing or two about real estate.
When he's not providing advice to local businesses, he spends his time writing insightful blog posts about the CRE industry, building wealth, and entrepreneurship.
Rod is an excellent person to learn from and if you aren't able to sign up for his coaching program his blog is the next best thing.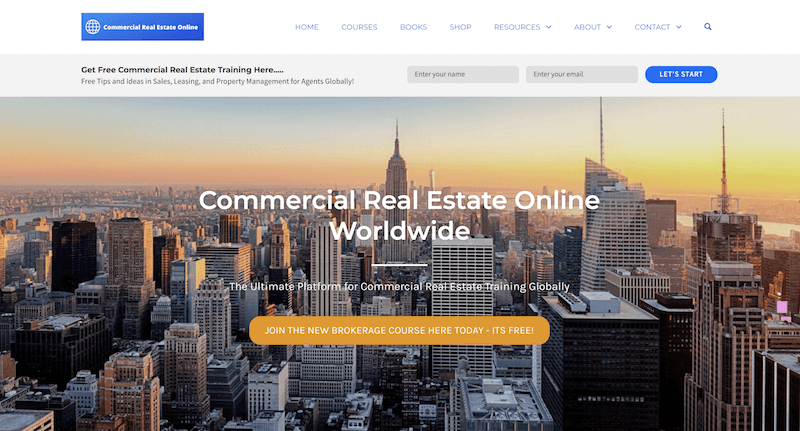 Are you looking for commercial real estate training? Well, you've come to the right place. Although that's probably pretty obvious since it's right in the name of this blog.
Started by John Highman, an internationally recognized commercial real estate coach and speaker, Commercial Real Estate Training walks you through every element of the buying process and explains exactly how it works.
There are plenty of paid real estate courses out there, but if you want to begin with some free training you really can beat this site.
Conclusion
As you can see, there are plenty of amazing commercial real estate resources out there for both beginners and experts. Best of all, every one of these is free. So, start taking advantage of all the information that's out there to grow your business or find your next great investment.
Written By